Home

/

About RapidClean Group
About RapidClean Group
Victorian Cleaning Supplies is a member of the RapidClean Group - read further to see how this will benefit you, our customer.
Established for over 30 years, RapidClean is an Australian & New Zealand owned national company with over 65 stores throughout Australia & New Zealand. Collectively the Group turn over is in excess of $90M per year, employs over 150 people and has over 100 vehicles on the road. RapidClean is made up of cleaning supply experts managing their owner-operated stores, just like Victorian Cleaning Supplies!
The aim of Victorian Cleaning Supplies in being a member of RapidClean is to be able to provide our customers with the support of a national organisation while providing a local service, offering a single source and cost effective one-stop-shop solution.
Some of the benefits to our customers of being a member of the RapidClean Group are:
Established for over 30 years they have an experienced, knowledgeable team to support us
Access to 65 stores in Australia & New Zealand and we can supply nationally
Access to a huge range of cleaning, catering, packaging & safety supplies
We can offer national accounts for large customers
The Group has huge buying power which Victorian Cleaning Supplies is then able to pass on the savings to our customers
ACCREDITATIONS:
Rapid Group is proud to have achieved the following accreditations:
Quality Assurance Standards (QAS)

This accreditation shows our commitment to delivering quality products and services to our customers.

Quality Assurance Standards (QAS)

This accreditation shows our commitment to delivering Occupational Health and Safety for our employees and customers.

Quality Assurance Standards (QAS)

This accreditation shows our commitment to reducing our impacts on the environment and improving our environmental performance.
BEST PRACTICE
The Rapid Group prides itself on exceeding expectations and are driven by three key principles: Quality, Service & Value. They recognise that the continuing success of it's members' businesses depends on the value, delivery and quality of the service they provide to us. They aim to provide a range of quality products at competitive prices, and provide service standards through their member stores of the highest level.
To achieve these goals they have implemented a quality assurance system -
What are the benefits of trading with a certified company?
The certified company must demonstrate:
business and customer related objectives and targets
embedded cycles of improvement (continuity of process improvement)
customer complaints handling system
customer focused process development
customer needs analysis
systems and process performance monitoring
planned and implemented staff training and development
RECOGNISED
RapidClean offers a wide range of environmentally friendly products & Cleaning Chemicals Certified under the Recognised Environmental Credentials Scheme which Victorian Cleaning Supplies has access to.
The Recognised® eco-label identifies environmentally preferable commercial cleaning products.
Recognised® products have undergone independent third-party scientific assessment against a rigorous multiple-criteria Standard.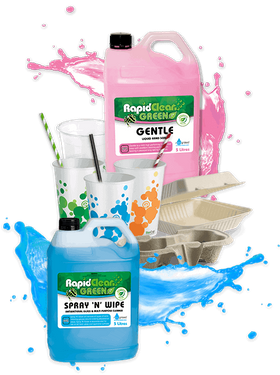 The Recognised® Scheme was reviewed by an independent Expert Panel of toxicologists* as a "sound and robust…science-based, targeted and pragmatic set of criteria", coupled with a "sound and transparent" third-party scientific accreditation process.
Sustainable procurement organisations EcoBuy and Sustainable Choice NSW accept accreditation under the Recognised® scheme as evidence towards product listing on their respective procurement databases.