Home

/

OUST 3 IN 1 SPRAY GARDEN FRESH 325G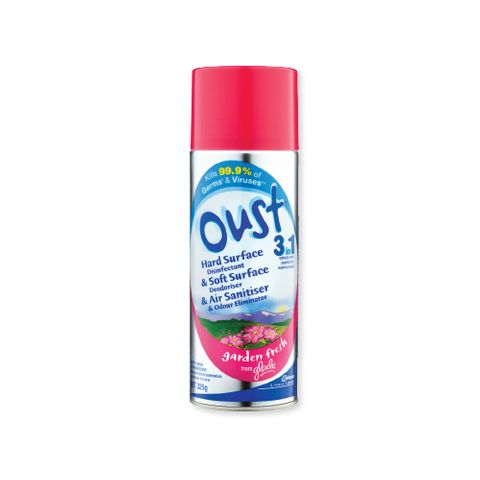 OUST 3 IN 1 SPRAY GARDEN FRESH 325G
Stock Code:
9300622644387
Description
Deb Oust 3-in-1 Surface Spray is a hard surface disinfectant, soft surface deodoriser, air sanitiser & odour eliminator.

With hospital grade disinfectant properties, Oust® kills 99.9% of Germs*, Viruses** and Fungi*** on hard surfaces, whilst eliminating many unpleasant and lingering odours.



Oust can be used:

On hard surfaces such as countertops, doorknobs, toilet areas, telephone handsets, garbage bins.

As a deodoriser for soft surfaces such as curtains and upholstery.


Use Oust:

As an air sanitiser and odour eliminator in smoking areas, kitchens, bathrooms and general workplace areas.
To remove mould and mildew odours, and the bacteria that cause them.